The concept of virtual exhibitions is not new: they have been in the public eye since 3D technology walked on. However, only the ban on live events due to the current pandemic forced event organizers to go virtual in action. In the mid-April, Moscow Chamber of Commerce and Industry (MCCI) organized a first business exhibition that was entirely virtual: Franchise Festival 2020.
What was the case and the outcome, and how can this experience be used? These are questions to be discussed with Artyom Dalevich, the Vice President of MCCI and one of the Franchise Festival organizers.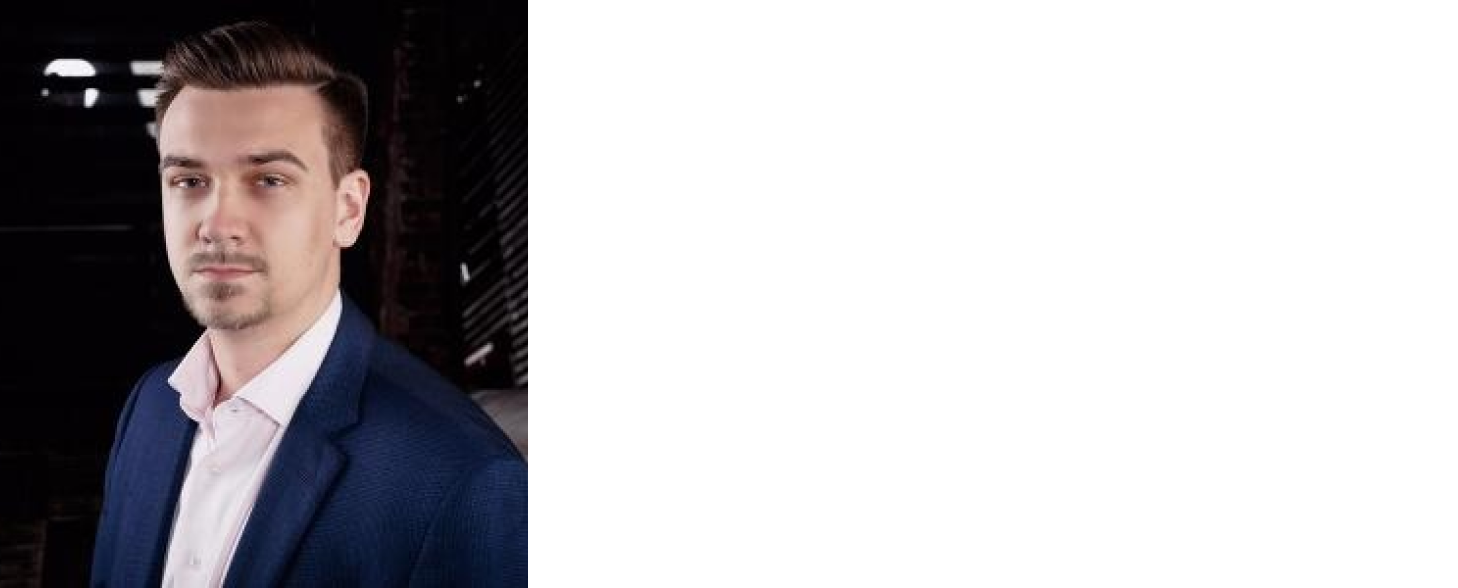 ARTYOM DALEVICH:
MCCI is a non-profit and non-government organization, a part of the worldwide ecosystem of commerce and industry chambers. Every center of business activity in the world has its own CCI. One of the tasks entrusted to MCCI is to foster Moscow entrepreneurs' participation in international exhibitions, so we first became aware of the emerging crisis in the industry quite early, back in February.
We started being contacted by many companies for which business exhibitions were the main way of attracting business partners and clients. As international exhibitions were getting cancelled and borders were closing, we were asked to provide the alternative solutions.
A week before the stay-at-home policy was announced, we realized the need to come up with a virtual solution for exhibitions, and that it had to be a comprehensive solution and a scalable one, which could be used by any CCI across the board. We decided that the "Franchise Festival" exhibition would be held entirely online.
Those who saw the results were astonished: "I never even thought this was possible!" And it wasn't, until our team and partners united our efforts and did the impossible: organized the first 100% virtual exhibition in just 3 weeks.
Technology
We organized our virtual 3D exhibition from scratch. First, we looked into many solutions that were available, but did not find what we needed, so we decided to create our own. Thanks to that, we now have a ready-to-use solution tested in practice, which can be used at other exhibitions, and which we are ready to share with other CCIs and exhibition companies.
When attendees opened the 3D exhibition page from the website or from the mobile app, they found themselves in a virtual exhibition space. By rotating their mobile phone, they could look around and see the exhibits.
"Franchise Festival" featured stands from a wide range of franchising companies, from children's apparel stores and restaurants to beauty salons and child development centers. The stands showcased most important information and eye catching posters.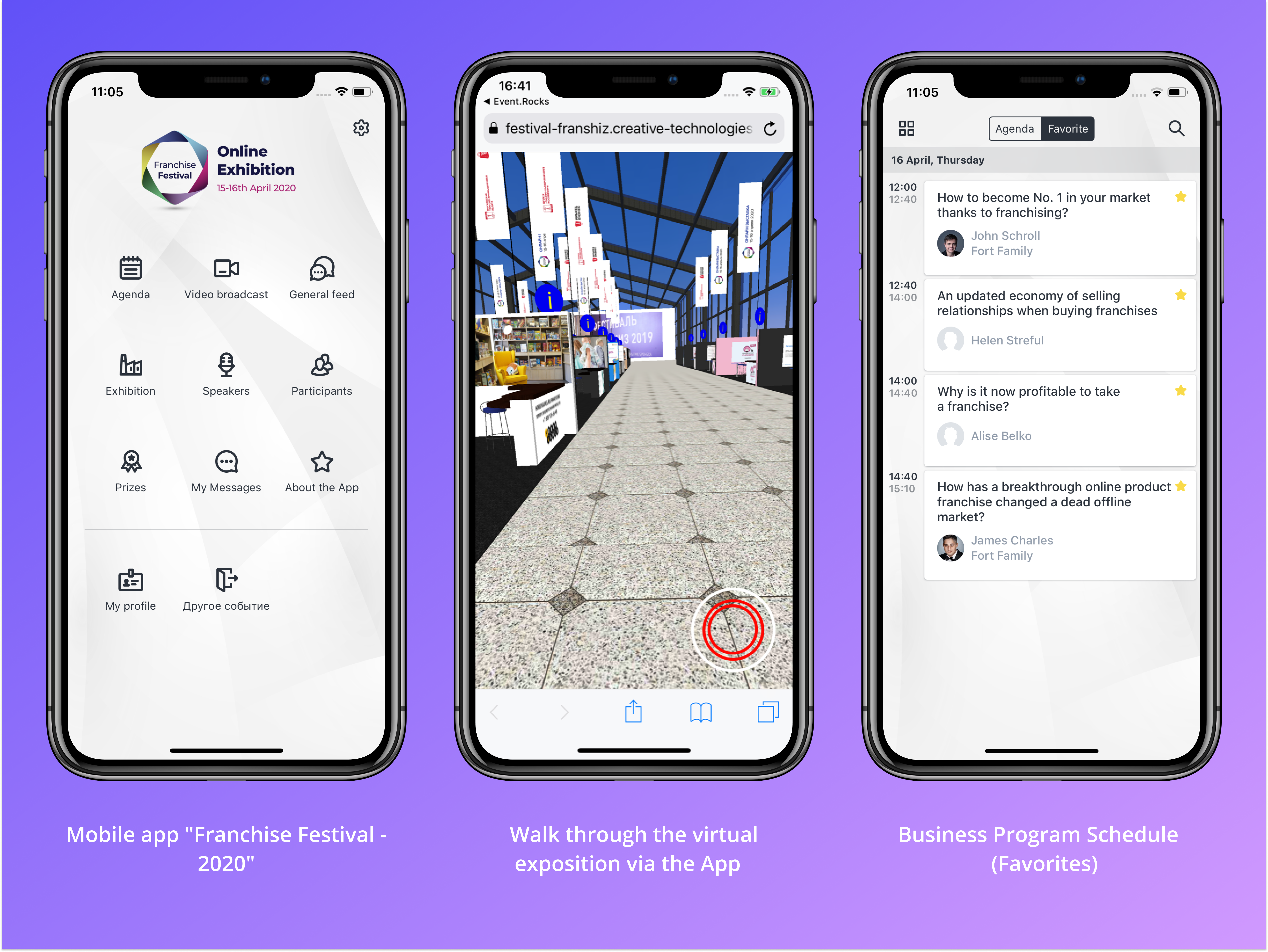 By clicking on the information icon on a stand, attendees could open the catalog section with the company description, franchise terms and conditions, and also photos and videos. From there, they could start a chat with a company representative or apply for the franchise.
In addition to the exhibition, we had a business program. It was implemented on the Event.Rocks platform developed by Eventicious. The mobile app provided the schedule, exhibitors catalog, and access to the live stream. We even held an in-app competition for the most active participants on the second day of the exhibition. But the main reason why we needed the mobile app was networking.
The things that people most appreciate about offline exhibitions, like the ability to meet new people, have a discussion with any exhibitor or attendee, and establish contacts – all these things were provided by the mobile app.
Results
Over two days, April 15 and 16, the exhibition was visited by over eighteen thousand people, and the following days saw another five thousand visitors.
But the most important thing was that the exhibition really "worked". 20 franchise applications were submitted. Just think about it: all beauty salons, coffee shops, child development centers in Moscow were closed, but, thanks to technology, business activity went on. Within the exhibition, we offered a 12-hour long business program, which was streamed and watched by 1,152 people.

Now we feel ready to put virtual exhibitions into mass production and share our experience and technologies with other exhibition organizers. Businesses are still interested in maintaining their informational presence and reminding about themselves, so that, when the restrictions are finally lifted, people still remember them. This means that we need to help them with online presence: attract interested audiences and provide a virtual platform where they can promote their goods and services.
Even when the quarantine is lifted, virtual exhibitions will most likely continue to evolve as a separate trend, as an additional opportunity for exhibitors and an extra revenue source for organizers.