In the past few months our development team has been working under the motto "Everyone goes online!" We optimized the solution for the specific tasks and needs of people who organize hybrid and online events. While at it, we also added several functional improvements that should make things much easier for the organizer team and add an extra spark for event attendees.
Event.Rocks: a complete online event set up in just one day
The most important news is that we now offer a complex solution for online events: conferences, virtual exhibitions, and continuous training programs.
Event.Rocks is a web screen for live broadcast that incorporates one or several parallel streams, attendee chat, interactive features and partners' banners – all that in addition to the mobile app that delivers communication, networking, interactive sponsor integrations, and everything else you need to implement any scenario, however unique.
The live stream can be watched in the app, which, by the way, is very convenient for event participants.
The solution provides throughout event branding and consistent style, authentication protection and, most importantly, the ability to set up the entire event very quickly, literally in just one day.
The Eventicious team will take care of all technicalities and will also advise on how to use the platform's possibilities to the best advantage of your event scenario: where to add polls and surveys, when to show poll results on the screen, how to facilitate networking and help attendees meet each other, and what perks to use to hold attendees' attention.
To learn more about what Event.Rocks can offer, please view our slides.
Better than messenger apps
Chat functionality offered by the Eventicious event app builder is now practically the same as in any popular messenger app. Attendees will receive notifications when somebody replies to their message, YouTube videos are displayed with a nice preview and can be played in the app, chat photos are saved to the phone gallery, etc.
At the same time, event app chats have one thing that puts them way ahead of messengers: they are specifically designed for business contacts. This comes especially handy at online events, where the app essentially serves as a networking ground. In the app, you can easily open any attendee's profile from the general chat or a topical discussion and find out what they do, their hobbies or interests, and how this person can be useful – things you cannnot do in a messenger.
Booking, groups and catalogs
The "Booking" module in the app has also been spruced up. This module is used to sign up attendees for activities, track how many people have signed up, and create a waiting list. Now it also allows to automatically create attendee groups in the app.
How can this be useful to event organizers? For example, they can register attendees for a master class that will be held during the event, and then send push notifications with reminders only to those who signed up.
Here's another example: organizers can ask attendees to split into several teams. After registration, each attendee will be automatically assigned to a certain group in the app. Each group has its own content, for example, a link to a specific broadcast, a closed chat, etc.
In addition to that, attendee lists can now be automatically split into different groups. For example, you can ask attendees which category they fall into, in order to facilitate networking.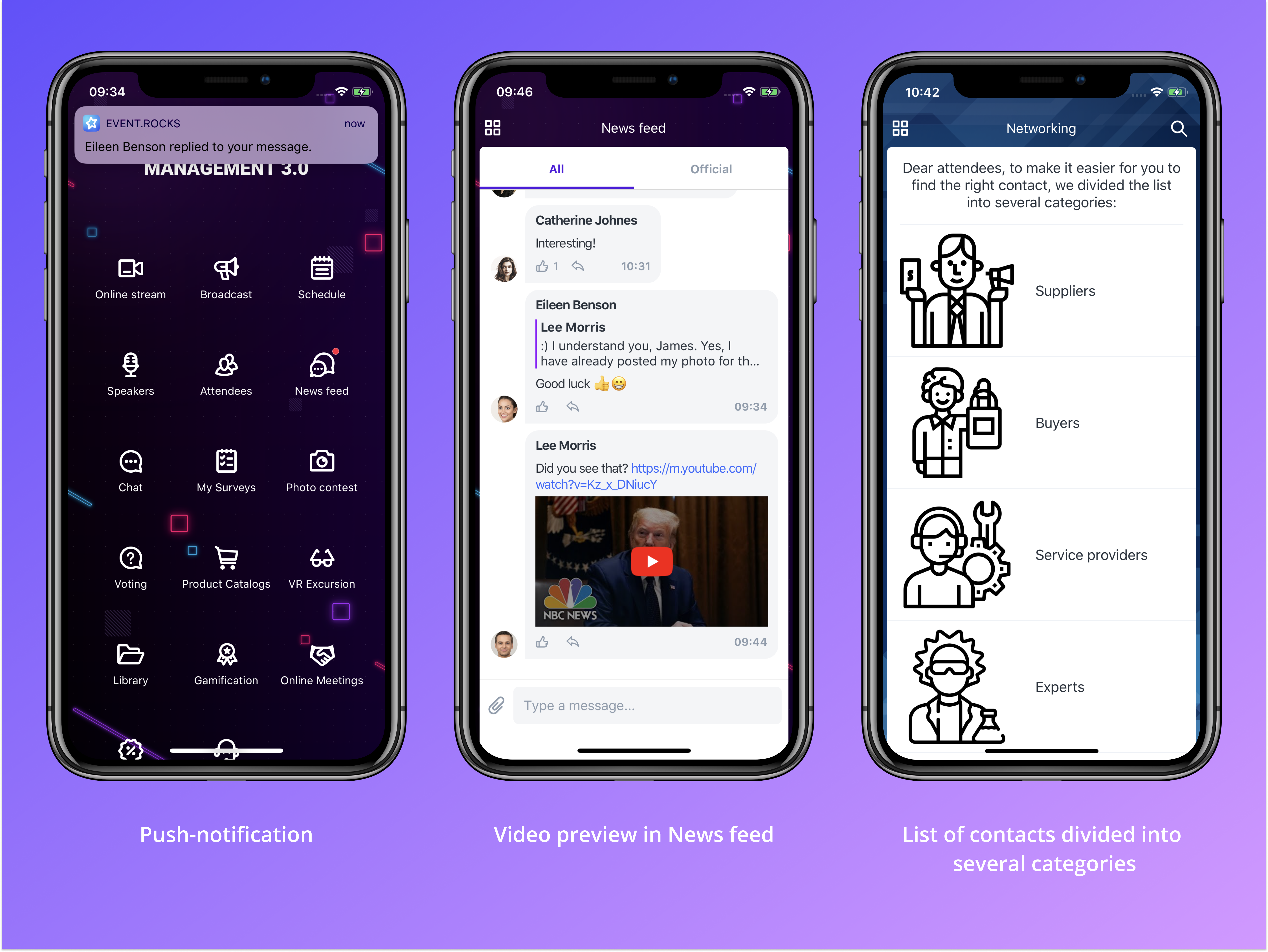 New features in profile management
We have given event organizers even more power over attendee profiles. Not only can event organizers themselves create any profile fields, they can also restrict attendees from editing certain fields, or make some fields hidden and visible only to the administrator, or only to the administrator and the attendee.
This option was implemented on request from our clients with corporate events and training programs. But it can also be very useful at public events. For example, such a hidden field visible only to the attendee and the administrator can store information about the attendee package, or a list of possibilities available to this attendee, or their status in the community.