The organizer team behind Digital Quarantine, a conference about digital transformation in business, used to hold events with this name back in 2018. At that time, no one could even imagine how prophetic this name would become. Two years later, the European business finds itself in a state of quarantine, and digital tools become our chance to weather the storm.
When the project producer Olesya Lungu received yet another message from a previous event attendee who was joking about how the event name was right on the money, she knew that the time for the next Digital Quarantine had come and that it would be held online.
OLESYA LUNGU
We had four other events planned for this spring, most of them related to the IT industry. We were deep into preparations: had booked all venues, purchased tickets for speakers, and so on. But everything had to be cancelled. When we were already in self-isolation, people who attended our marketing event called Digital Quarantine back in 2018, started messaging me, making jokes about its name.
So we decided to pull ourselves together and quickly move online, especially since we already had such a fitting name. It did not take us long to come up with a concept. From the very start, we knew that we wanted this event to be about small and medium business.
We wanted to support business owners and help them adapt to the new reality, offer life hacks and digital tools for discovering new channels of interaction with potential clients. This idea found support from the European Union and their "Support to Confidence Building Measures Program" implemented by UNDP.
Even though we had so little time to prepare the event and only four days to promote it, almost 500 people registered from Eastern Europe.
Mobile app
I had a lot of personal experience watching various webinars. So I understood very well that a webinar is quite different from an offline event.
The atmosphere, the possibilities, the drive, the energy, the interaction – we were looking to somehow recreate that hype in the virtual format. The Eventicious apps came to mind
I had been eyeing them even before we came up with the online event idea, wanted to use them at offline events. We started looking into which perks of offline events can be brought online with the help of the app. And saw many possibilities.
To tell you the truth, not everyone on our team saw the point of using the app. But afterwards, they were glad they had trusted me.
An official app gives a totally different perspective to the event, a different level and status. Later on, our partners from the EU and UNDP specifically thanked us for having insisted on using the app, after they had seen its benefits.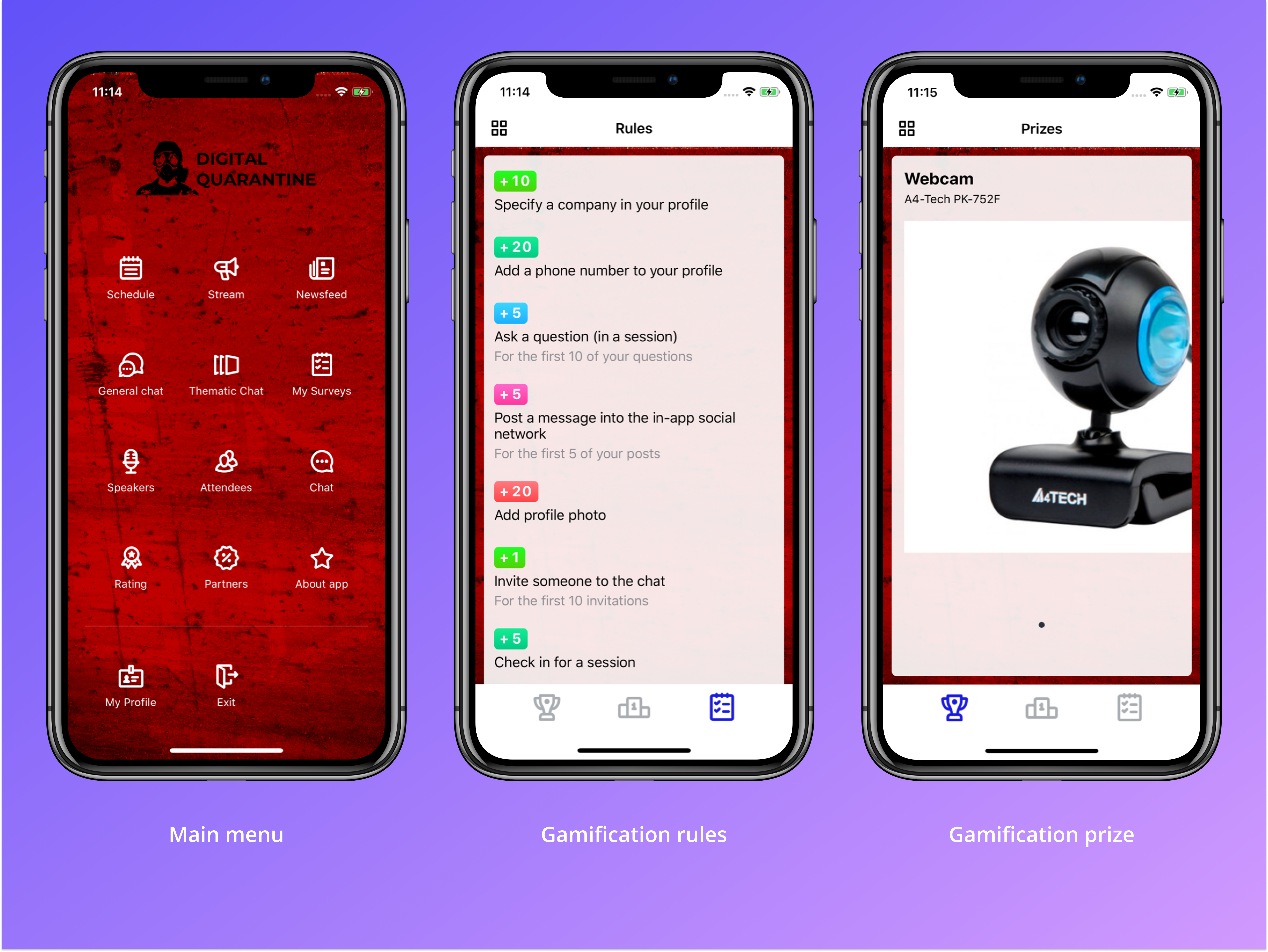 Creating an event atmosphere and keeping everyone informed
We announced a dress code for the event: all attendees were asked to wear something red to show their support and solidarity with those fighting the virus. Both the speakers and attendees supported the idea, and the feed in the app was soon flooded with red-coloured photos. This way we were able to bring our online event's atmosphere a bit closer to offline, in some way.
It goes without saying that we used the schedule in the app. I'm already anticipating how much money I'll be able to save on paper handouts at "live" events.  I can't remember a single time when we did not have to make last-minute changes in the timing.
And it always happens when all booklets and handouts have already been printed out, so a real nightmare begins. I remember having to glue these changes into the booklets the night before the event. And with the app, you press two buttons and – what a miracle – all attendees have the up-to-date schedule.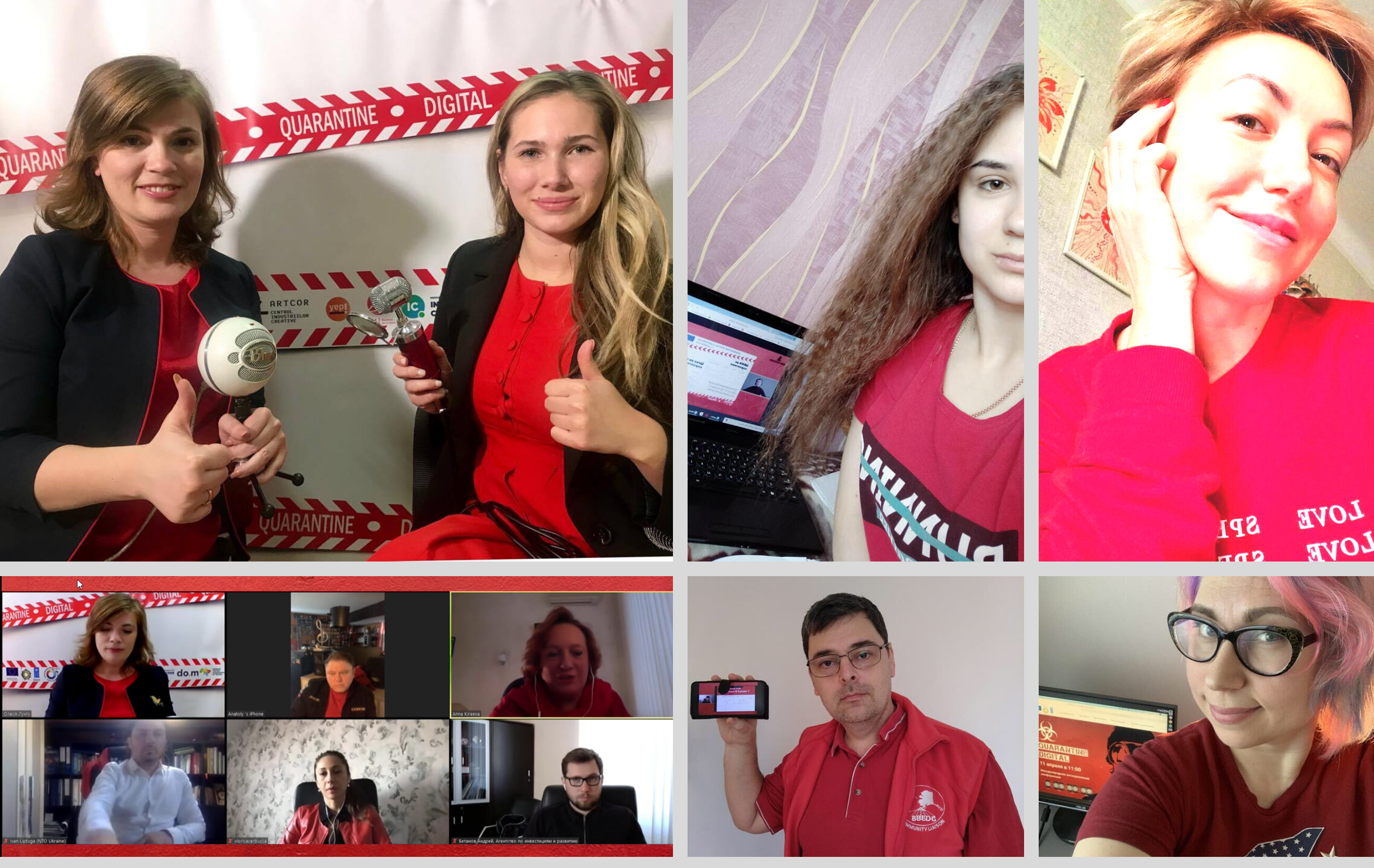 Engagement and gamification
We actively used polls with the ability to show results on screen right away. It looks good and attendees like it: they were happy to take polls and surveys. Attendees asked questions to speakers.
Another great way to engage attendees is the Gamification functionality provided in the app.
We made up rules, listed all activities that would be rewarded with bonus points, and then published a long list of activity prizes for top scorers. Quite naturally, everyone wanted to win a digital gadget, so attendees were every active.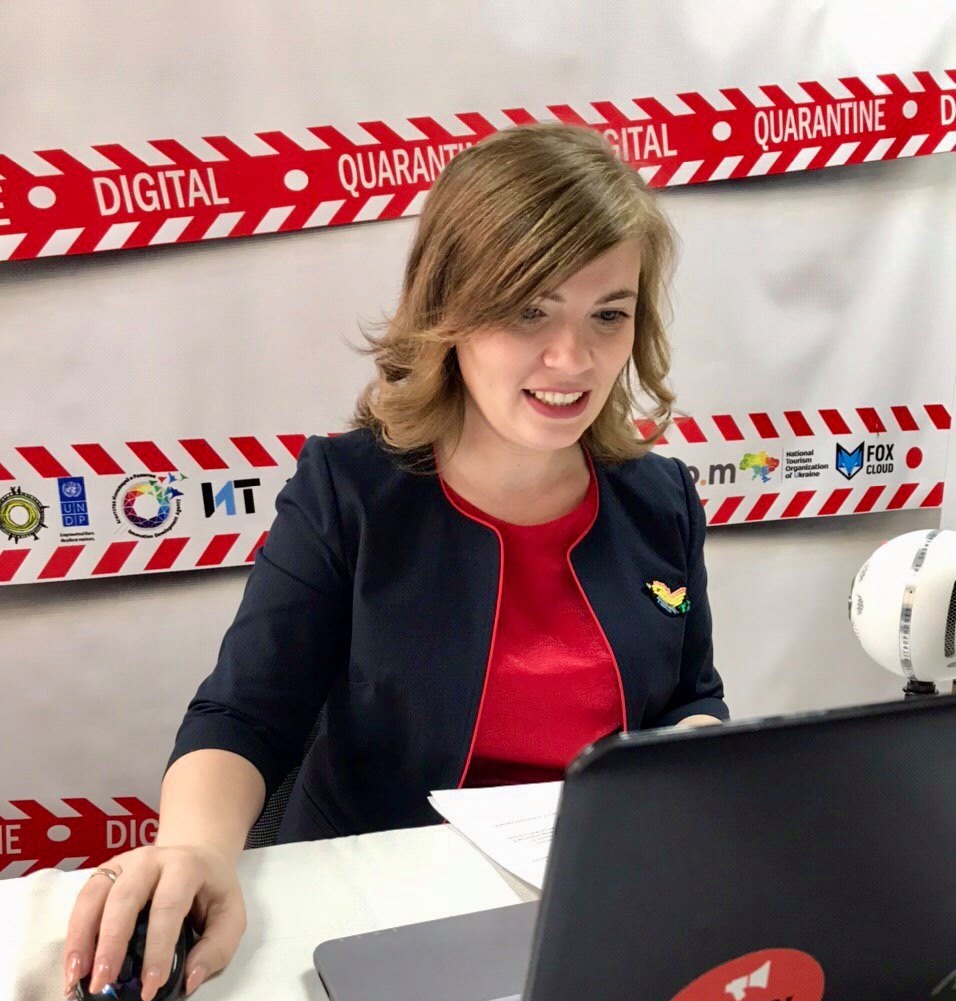 Partner integrations
We had a special tab about partners in the app. Attendees could see who our partners were and visit their websites.
As I always say, I sell each event three times. First, to my team, to give them inspiration for their work, then I sell it to partners and sponsors, to make them believe in the idea and invest in it, and then I sell it to attendees, to make them come to the event.
The sponsor integration possibilities offered by the app make the task of selling the event to partners much easier. I already know that this is something I'll be using a lot, especially when organizing commercial events with paid attendance.
Unfortunately, because we had to rush the preparations, I did not have the chance to try all features offered by the platform, so we "saved" some of them for future events.