An informative website, a mobile application, and online ticket sales: in this digital age, these are  absolute must-haves for any event, and especially a festival expected to gather over 1000 web developers, designers, startuppers, and  IT industry leaders – people whose lives revolve around Internet technology.
This case is not just about the mobile app (although 1,125 active users is quite an impressive number); it's more about the close integration between the app, the 404 Fest website and a ticketing service. This case study shows how solutions developed by Eventicious can be used to optimize the content update process and thus save dozens of hours for event organizers.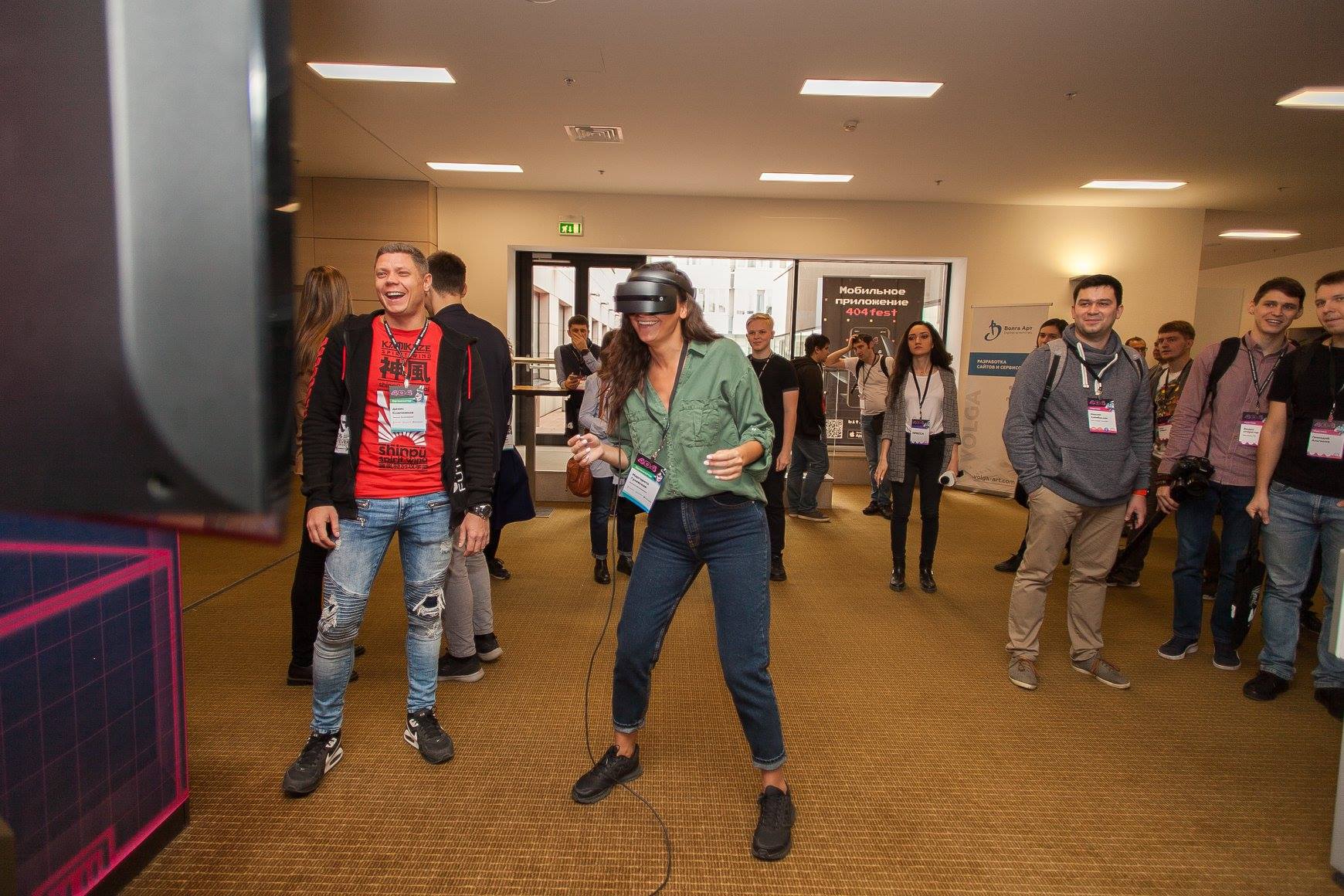 Widgets
If you are starting off with a bare landing page and want to make it into something useful and informative quickly and on budget, the widgets developed by Eventicious are just what you need to create a great looking up-to-date schedule for your event.
"404Fest website was built in true agile fashion: first, we made a very simple web page with basic information, and then we continued adding content to it as we received more details about the event program and speakers," says Eugene Demyanenko, an organizer of 404Fest, "and this is where the Eventicious widgets were very helpful."
Organizers added information about speakers, presentations, or event sponsors to the application as soon as their participation was confirmed. Thanks to the widget, data from the application went directly to the corresponding sections of the website, all fully formatted and ready-to-use.
It means that all information presented on the website was always up-to-date, and event organizers did not have to waste their time on duplicating content.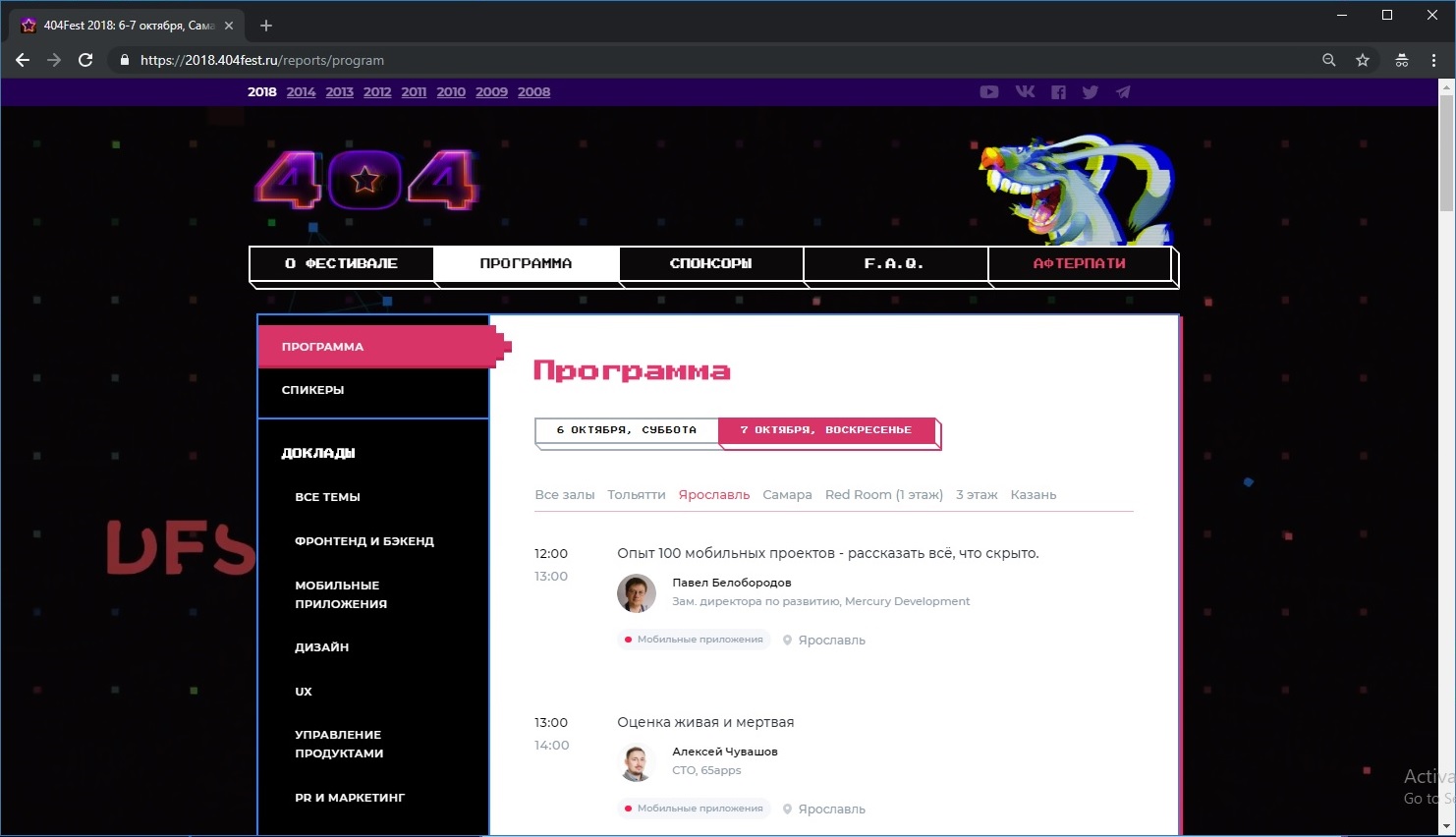 Festival organizers started adding content to the app long before it was published on the App Store and Google Play. In fact, they started doing that from the very first week.
By the time the app was made available to festival attendees, it was fully loaded with information: a two-day schedule with six parallel sessions, information on all 97 speakers, and detailed presentation descriptions.
Integration with ticketing platform
One more solution from Eventicious that made the 404Fest organizers' lives much easier was the app's integration with the TimePad application and ticketing service.
"Buy tickets" link on the festival's website opened the TimePad widget that allowed to register and buy tickets. The registrants' data, in its turn, was immediately loaded into the app.
Everyone who bought a ticket was automatically added to the app users list. Several days before the event, a personal invitation to sign in to the app was sent to all people on that list via the Eventicious service.
As a result, 90% of those who registered for the event signed into the 404Fest application. The remaining 10% were representatives of event sponsors and mass media, promo staff, and also those who cancelled at the last moment.
Thanks to the high – almost 100% - adoption rate (which is the percent of attendees that used the application), the 404Fest organizers were able to make their event even more technologically advanced and environment-friendly by eliminating all paper handouts. No more printed event programs! It takes so long to prepare and print them, and then they become outdated even before the event begins.
"One of our speakers got hospitalized a day before the festival, so we had to quickly replace him with someone else; yet another speaker asked us to move his presentation to a later time at the last minute," says Eugene Demyanenko. "If we had used paper handouts, we would have to either re-print the entire run, or leave the attendees misinformed. But we had the app, and it took us only 5 minutes to update the schedule and send a push notification to everyone. The information on the website was updated automatically."
Just by saving on printing costs, the event organizers were able to recoup the cost of the mobile app.  One could even say that they saved quite a lot of money because they did not have to reprint paper handouts when the program changed.
In any urgent situation, the event app is like a magic wand for event organizers. Automated processes and integration of must-have digital tools (website, application, and ticketing service) into one system can free up time and resources better spent on implementing fresh ideas.
In the final survey, many participants noted the high level of organization and technology at the event, and the mobile application played a significant role in that success. 89% of attendees rated the event app as "excellent" and "very good". Considering the specifics of the audience (developers, designers and other IT professionals), this is a rating that we can be proud of.