We are happy to present four new features in Eventicious event apps. Three of them will be certainly appreciated by attendees, who will now find it much easier to navigate complex programs, find their way at events with multiple locations, and ask questions incognito. The fourth feature is like a magic wand that will save event organizers at most crucial moments.
Filter program by topics
If you have ever been to a large event, you know the feeling that you get when you are staring at a program with over a hundred items. You feel like a kid in a candy store: you can't have them all, and you have no idea what and how to choose.
To help attendees, we implemented the "add to favorites" feature" a long time ago. It allows attendees to review the program in the mobile app before the event, select most interesting activities and create their own daily schedules. This was helpful,  but we decided that we could do better.
Now organizers can add a filter to the program, so that attendees can filter it by topics (sections) and see only talks and presentations that are of interest to them, with the rest being hidden from view.
Each program item can be linked to as many topics as you like. At the same time, key events, coffee breaks and lunches (if there are any), as well as sponsored ads, will always be displayed in the program, regardless of filters.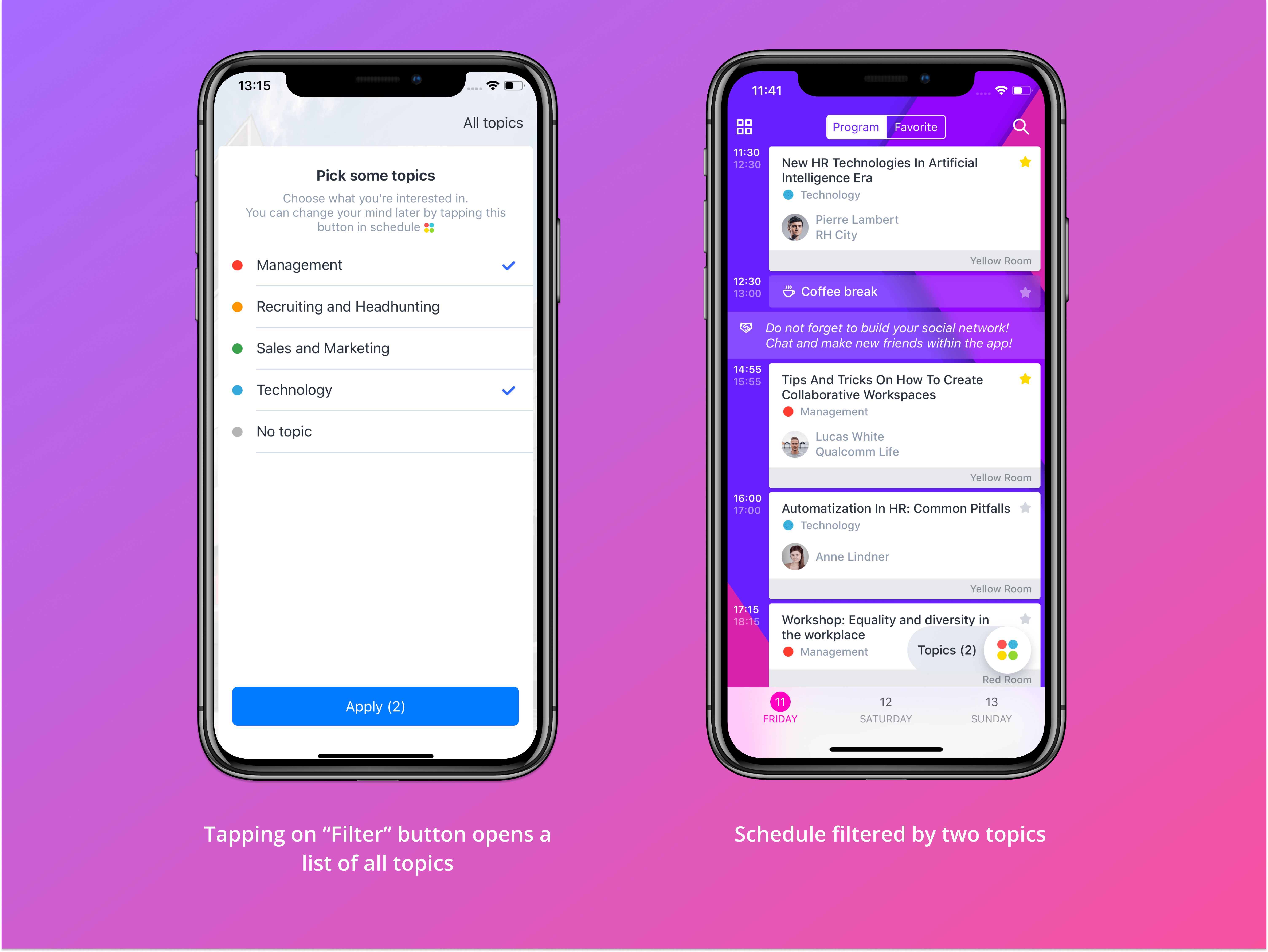 If an event has more than five topics, the application will automatically ask users to select those of interest to them on their first login, so they will be presented with a program that has already been filtered. This is much more convenient for attendees and much less troublesome for event organizers.
Interactive maps
The updated maps functionality in Eventicious apps will make organizers of multi-location events very happy. Now you can put interactive pins on location maps and floor plans. When you click on a pin, the app will display a list of program items associated with that location. At a festival, you'll be able to see the lineup for each stage, and at a conference – activities scheduled for each room.
You can add other important information to pins, which may come handy when organizing destination conferences and incentive tours. Participants will appreciate the organizers' efforts if, in addition to providing a map showing key locations and local attractions, they will also supply additional information about those, like the phone number to call to reserve a table or a brief description of the museum.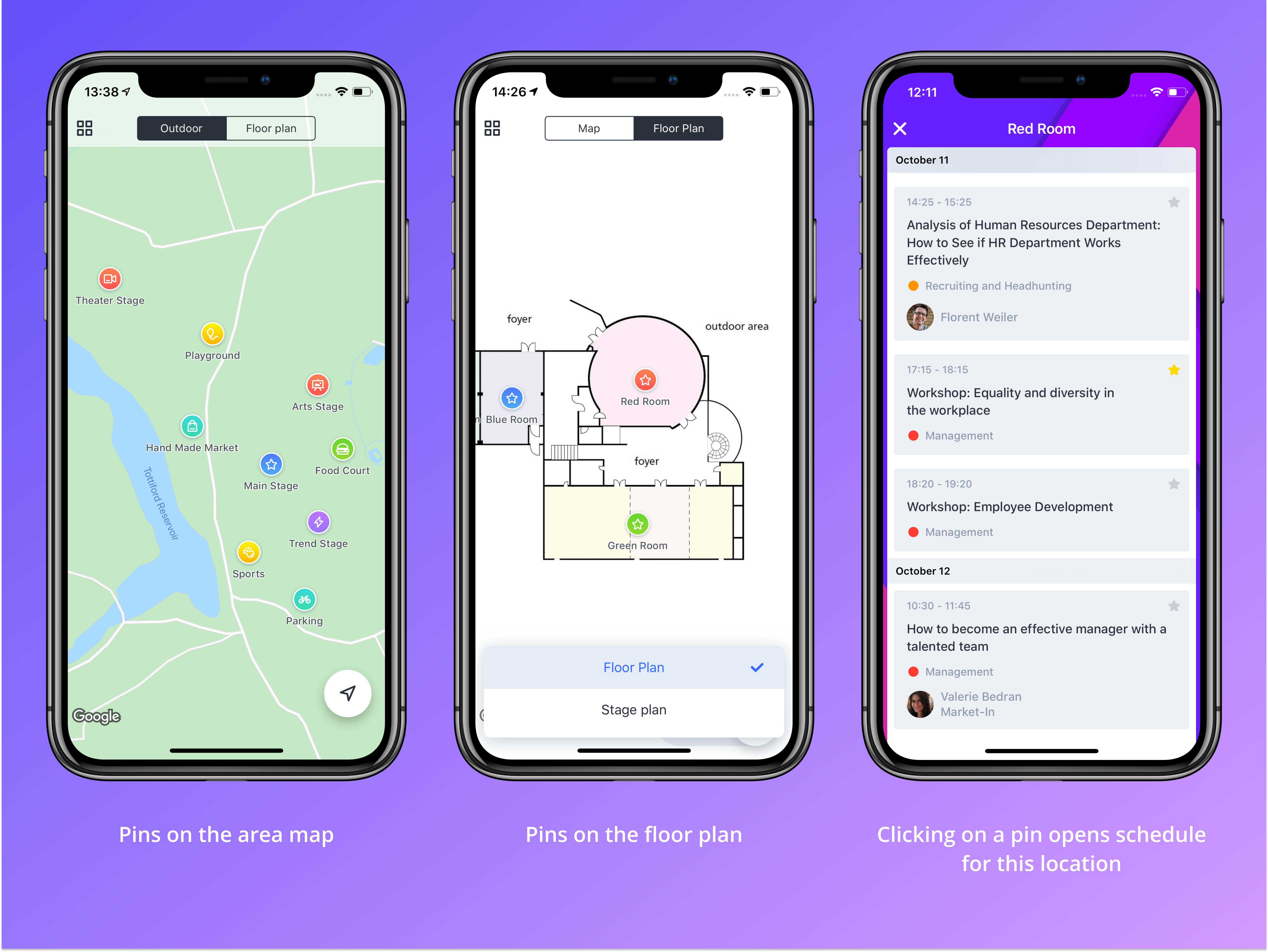 Anonymous questions
The idea of making it possible to ask speakers questions without revealing your identity was suggested by our clients.
We were making an application for an annual conference of a large bank. The Chairman of the Board of Directors was expected to deliver a talk where he wanted to give honest answers to all employees' questions, even the most difficult ones.  The organizers were concerned that employees would be reluctant to raise difficult topics or ask inconvenient questions under their own names, so they asked us to make it possible for users to address speakers without revealing their identity.
This option is now available in Eventicious apps! Depending on the event format and goals, organizers can enable or disable the ability to ask questions and comment on presentations anonymously.
Administering applications on the go
At any event, the event organizer is that very person who "was here just a minute ago" or "is around here somewhere". Organizers have to solve all problems on the go, so we decided to make life a little easier for them and give them more administrator capabilities when they are on their smartphones.
Authenticated users from the "Organizers" group will now be able to create push notifications containing a text or a link and immediately send them out to all attendees.
This is super handy when you need to notify everyone about last-minute changes in the program or a force majeure situation, or when you want to promote a sponsor, or simply gather everyone together.
Along with that, organizers will now be able to moderate questions asked to speakers right from the app, removing improper or duplicate ones. This is a nice addition to chat moderation, which was implemented a while ago.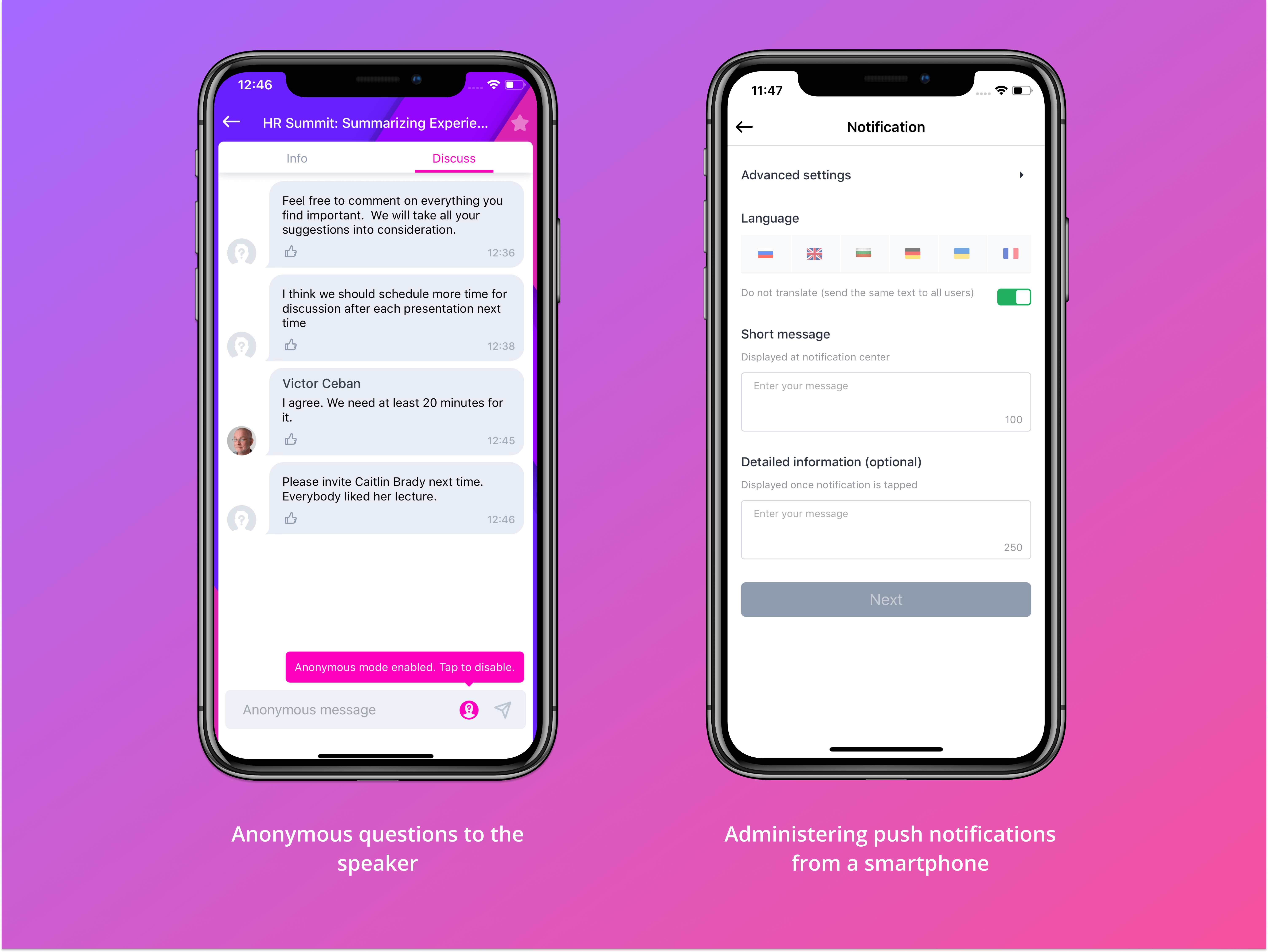 And a few more nice little things
There's something else we wanted to share: we added more icons to our app builder! Now there are 88 of them, which further expands customization possibilities and makes it much easier to find the right icon for every menu item.