HRcoreACADEMY Online Summit took place in late October following the dramatic cancellation of the HRcore summit in Barcelona in March. It was held on virtual platforms provided by Eventicious and gathered over 40 top speakers in HR, L&D and cultural transformation, as well as 1,400+ HR profs from 60+ countries.
The team of organizers was Teneo Meetings, which is based in Barcelona and specializes in putting together international HR conferences on topics like recruitment, HR management, HR agility, and people analytics.
We met with Matt Cortez, Executive director of Teneo HR, to talk about how the team came up with a virtual event, challenges of the event industry, and the future of meetings. We invite you to watch the video or read the interview transcript.
— So congratulations, firstly, on your determination to take this challenge to go virtual!
Mike Cortez: There was no other way! HRCoreACADEMY is one of our HR-focused events, which we were previously organizing as a live event. This year, with the 7th edition, we were forced to move it online. First we were considering having it as a hybrid event, however, the live location was supposed to be Amsterdam, and, as you know, the situation did not allow for any live things to take place, so we decided finally at the beginning of September to hold HR academy just as an online event.
— Was it easier or, the opposite, more difficult to organize a virtual event after physical ones?
— Well, physical ones we have been organizing for over a decade, so we are quite experienced in putting together a live event. I wouldn't say it's easy, but at least we know what to expect, we know how to prepare for it, we know how to run it. Virtual event was definitely a challenge, because we didn't know what to expect, we had an idea, but you can only read that much and prepare yourself that much. But the execution on the day – that was a steep learning curve.  We did survive, I think, we learned a lot from it, and we are much better prepared for the next one, but this first fully virtual event was definitely a challenge.
— But you did your job very well! The program was amazing, and the organization as well.
— Having a two-day program, two full days, it's a challenge, you know. It's much more complex than putting together a webinar, which is just kind of one closed block, two-three hours maximum, where all the elements are much easier to put together and to manage. Having a two-day program, two parallel streams, over 40 speakers, requires a lot of juggling and flexibility and dealing with all kinds of issues on the spot.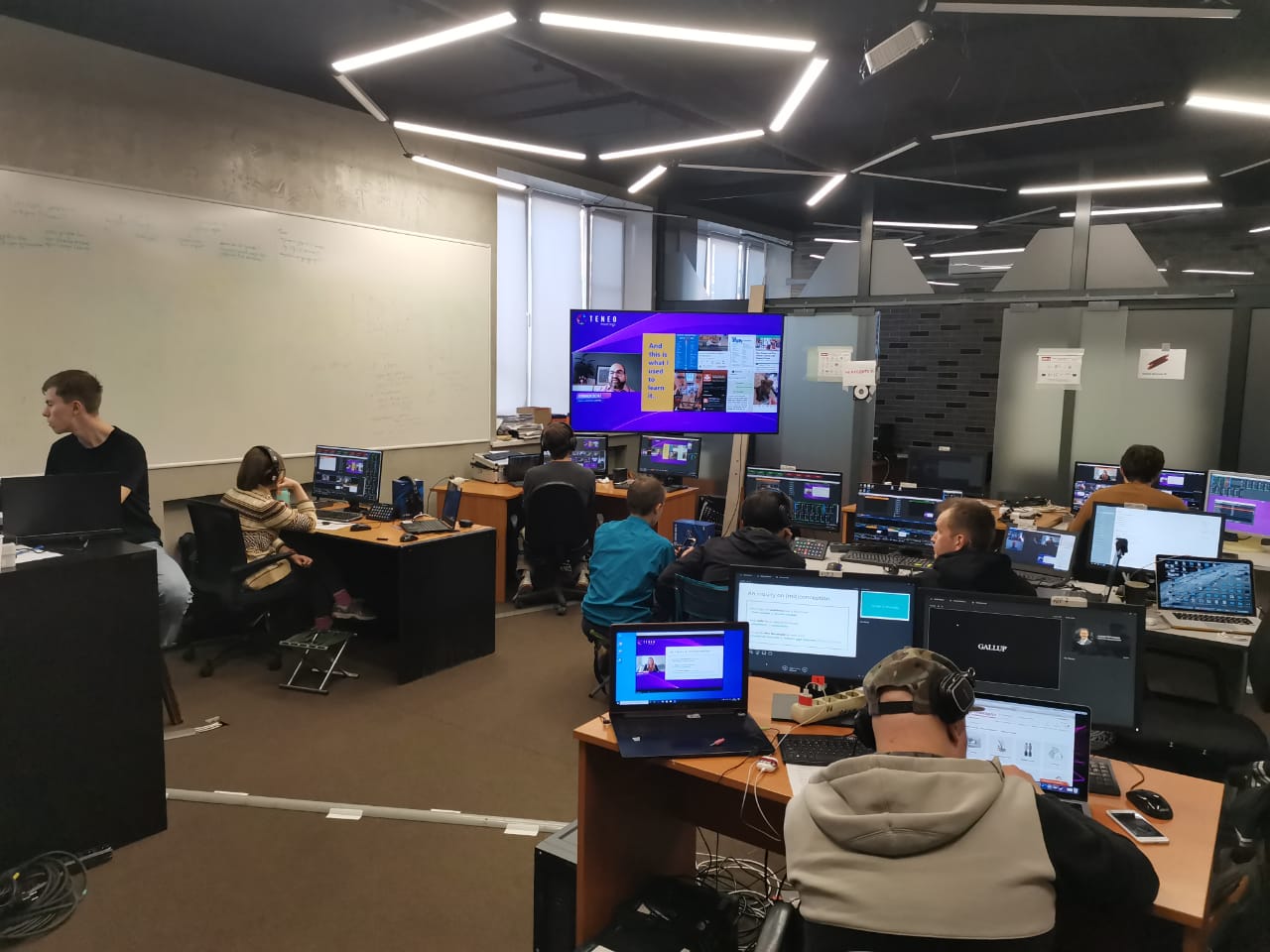 — Do you think that organizing a virtual event requires more or the same resources, more team members than a physical event, or is it the same?
— I think it requires less resources. But because it's so heavily dependent on the tools and platform, and virtual tech, the resources are much more important. With a physical event, you need more people on the day of the event, you need to have your technicians, hostesses, a whole lot of people in the kitchen —  there's much more physical resources needed for live events.
However, an online event, I think, with the right tool, is easier to organize. But having the right tool is crucial, because these tools have much more weight. If one person at a physical event fails to show up, you know, to the kitchen to prepare the catering  — nothing happens. Doing this virtual event, if one person wouldn't be there, the whole thing would collapse.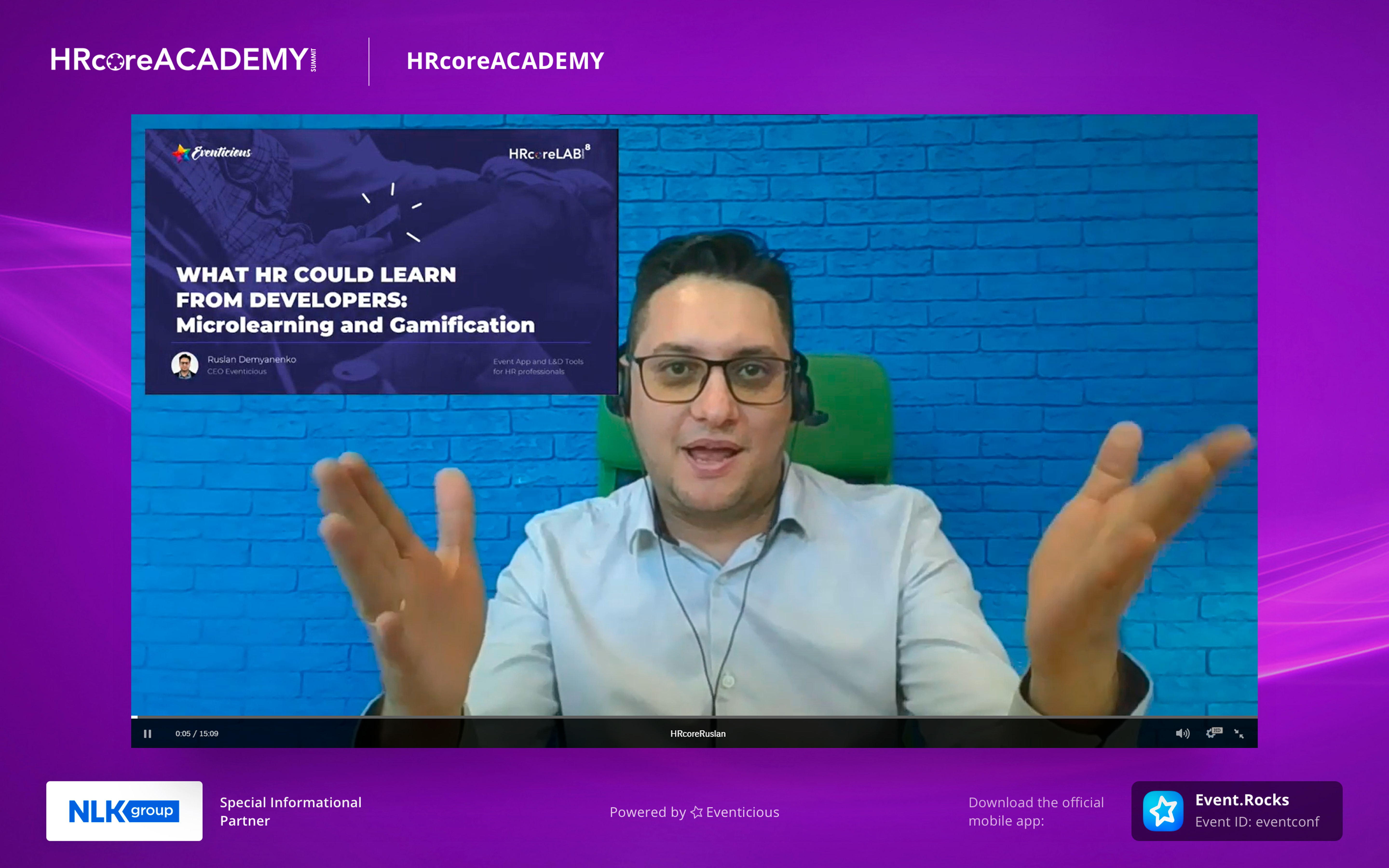 — I know some post-event stats: there were 511 total questions to speakers and comments, almost 2,200 general browsing and broadcasting, so it really was mostly a learning experience for the audience, rather than networking. We have already supported some events where there was much more communication, and we saw that  your event participants were mostly asking professional questions to the speakers and they were watching webinars. Do you think it was the specifics of the audience, who came to study, to learn, rather than to network?
— Yes, the data suggests that. We can only be guessing about the specifics of the audience, but the data shows that they were there mostly learning, they were mostly watching, asking questions to speakers. The interaction between the audience and the speakers was great, over 500 messages there, questions asked.
I know that between our different conferences there are also different levels of networking profiles. I would say that recruiters do network more than compensations and benefits professionals, so it differs. But I think that networking can be increased by the right education of the participants, setting the right expectations, showing them how they can do it, providing a platform for it.  I guess in our case we did not focus enough on setting the right stage for networking, and our main focus was to provide the right stage for learning: having the right speakers, having a proper platform where they can see the speakers, where they can ask questions, and networking was rather secondary.
— We received very good feedback from your participants, they posted comments and feedback on Capterra with review of the platform, and sent us private messages. For us it's a very good experience with your audience. What about other partners? What is their experience?
— We have very good feedback from them, many of them are joining us for the next event, the one scheduled for March 2021, and some of them are signing contracts for the whole year of 2021. So yeah, they were quite happy.
I must say that those that did have presentations were happier than others. Presenting, being visible, having a platform where you can talk about — not even about your services... Actually, what works best for solution providers is having a case study from a client who had success with their tool or solution – it goes a very long way, people trust it better, and people can learn from practical information about a certain service. So those who did presentations were approached like that, had many participants coming to their virtual booths, asking for more information, scheduling follow-up calls.
I know that from our side, what we could do better is to educate the partners and sponsors more on how to maximize these networking and promotional possibilities of the virtual event – this is what we'll be focusing on next. However, sponsors tend to understand better what is required from them and how they can maximize their participation.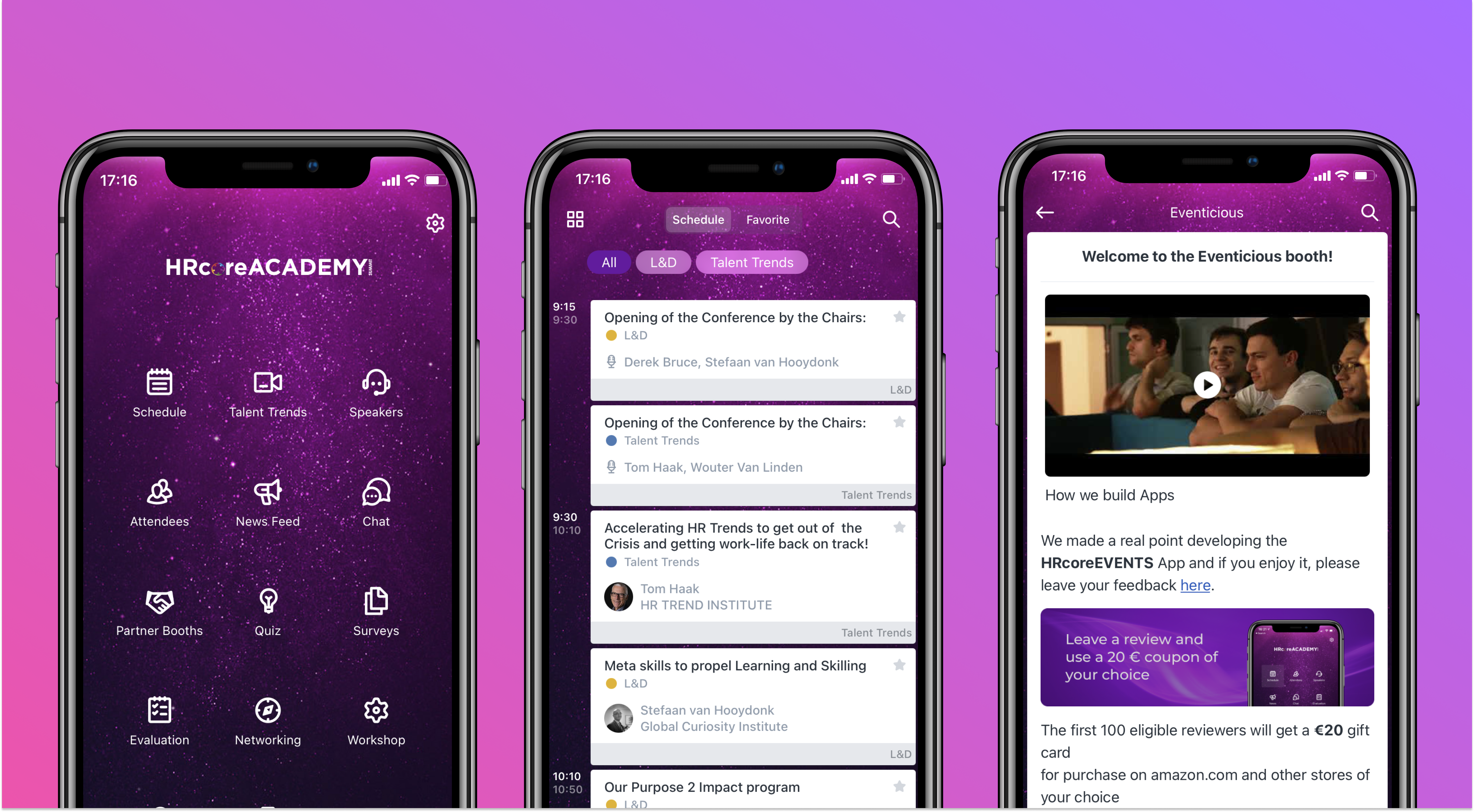 — You already explained a lot about the advantages of the application for the participants, maybe you could add a bit about how you helped the participants with the app to participate in the event?
— Well, we did prepare a video that we sent to participants, how to use the application, what are the main functions and functionalities, explained which parts of the application allow them to consume the content, watch the content, see the booths of the sponsors, which are the functions that allow them to communicate between themselves, like chat, like requesting a meeting, and how to find other participants, similar ones, for networking.  The application was pretty straightforward, you know, it was something that we liked a lot, that there was not much to explain, to be honest, everything was very clear, everything was labeled, so we weren't worried about that, to help them to use it.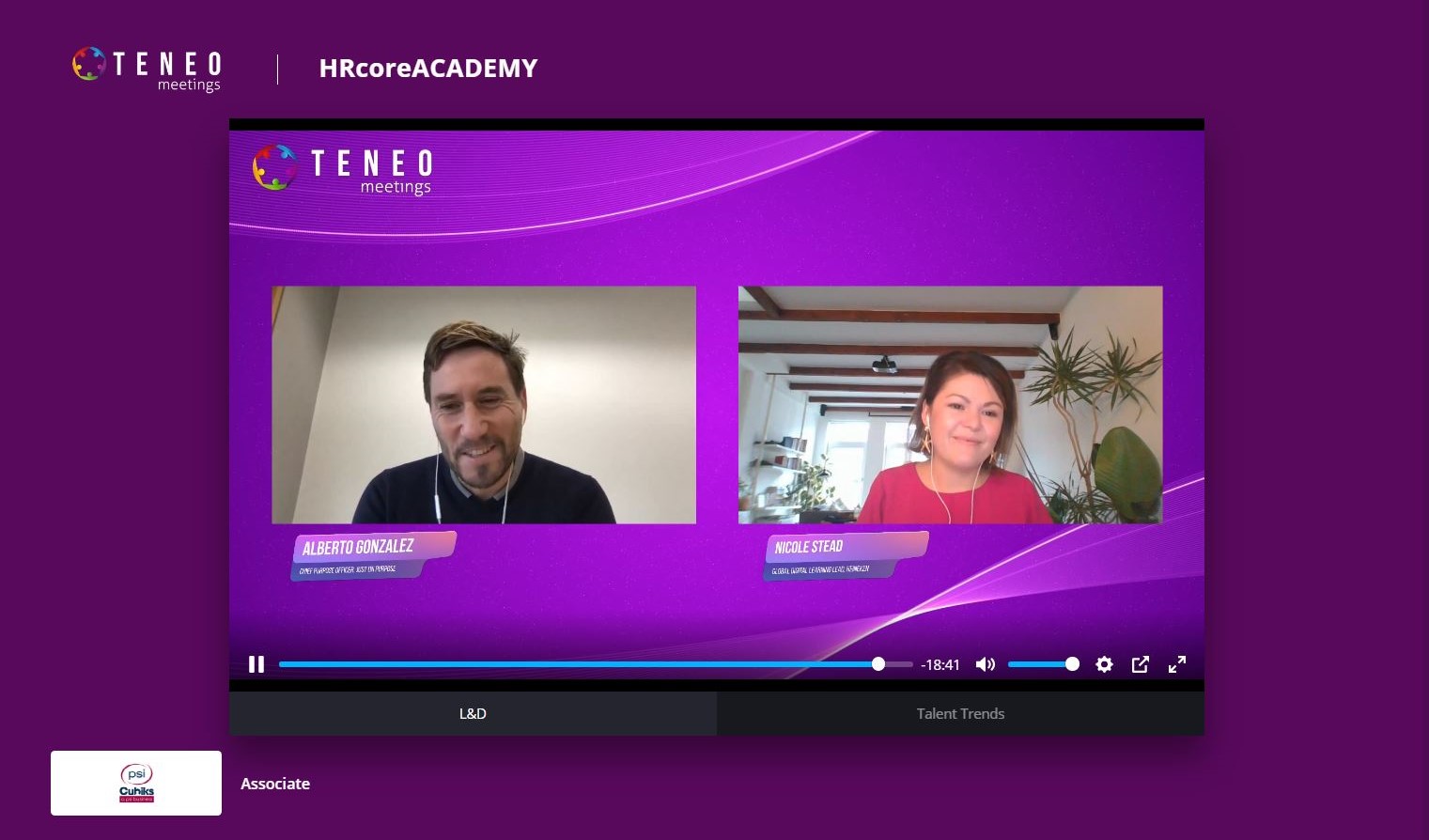 I think what we didn't do right was to encourage it more, maybe, I don't know, through more engagement, more gamification, though we did have these options. I am just trying to think how we could improve it in the future, you know, from our point of view, what could we have done better: the application had all the functions that we needed, maybe we just didn't use them well enough, or didn't use 100% of their functions.
— In connection with the changes in the event industry this year, we are witnessing a transformation of events: virtual events became more extended in time with other activities between the main sessions or between the meetings.  I know that you are preparing for the HRCore summit in March. How do you plan to interact with the audience between these events?
— That's a great question, because it seems that these days just running events is not going to cut it. It's great to have people logging in to the platform and participating in the event over these couple of days, while the event is taking place, but we do see the need to interact with them in these periods between.  
And right now we are putting together actually a quite interesting offering. Apart from HRCoreACADEMY that we had in October, HRcoreLAB that we'll have in March, HRCoreNORDIC, which is a Nordic purpose event,  in May, and HRcoreREWARD, we have HRcoreONLINE. It's an online platform where we will provide online content, like pre-recorded presentations, webinars, other interesting things that might engage our audience, so not only we have them at this virtual event itself, but to provide them with content and value to be with us throughout the whole year.  Content is the key these days, and of course putting together all this content for the couple days of the event is good, it's one complete package, however, knowing that people might not have enough time to consume all that, giving them more content out there may provide more value than just the event itself.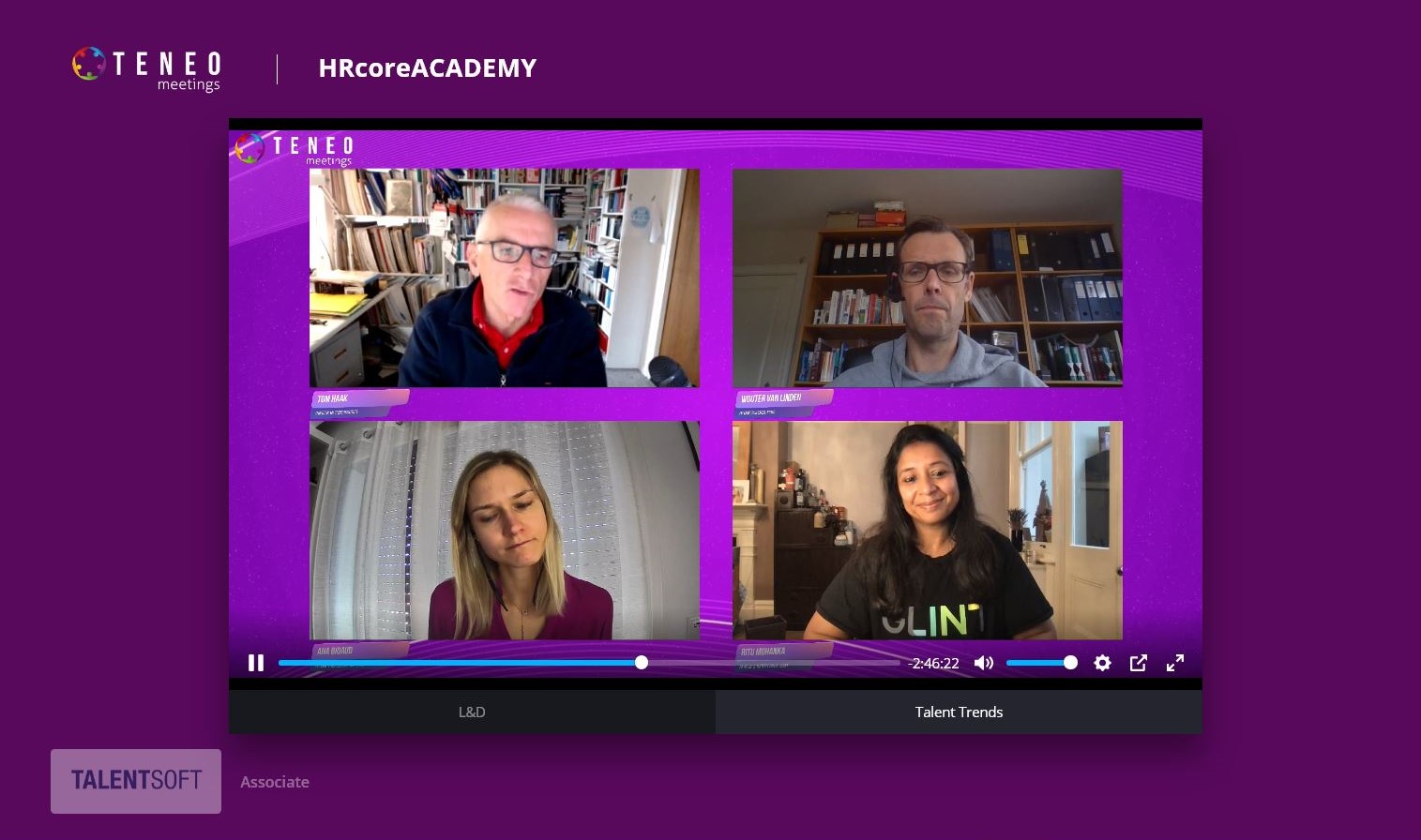 — Can we call it, like, interaction with the community?
— Community is the key here. Building a community is the goal of many event organizers these days, to not only have them hop in and hop out, but to have them engaged, to have them interact with each other, to create this extra value of being part of something. That's the focus, that's the direction we want to take. There's loads of noise out there, so getting through that noise, curating the right content, engaging people on topics and issues that are important to them – that's the challenge. If this is done right, then there's a chance to create a community around these topics and these issues.
— To bring almost 1,400 participants to a virtual event is quite challenging as well, so it shows that you are quite effective in your work with the community, especially with content creation.
— For the March event, we are looking to double that number, so at the event we have at least three thousand registered participants interacting, networking, sharing content. That's the goal. I think that right now, looking at our current progress, we are on a very good way to achieve that.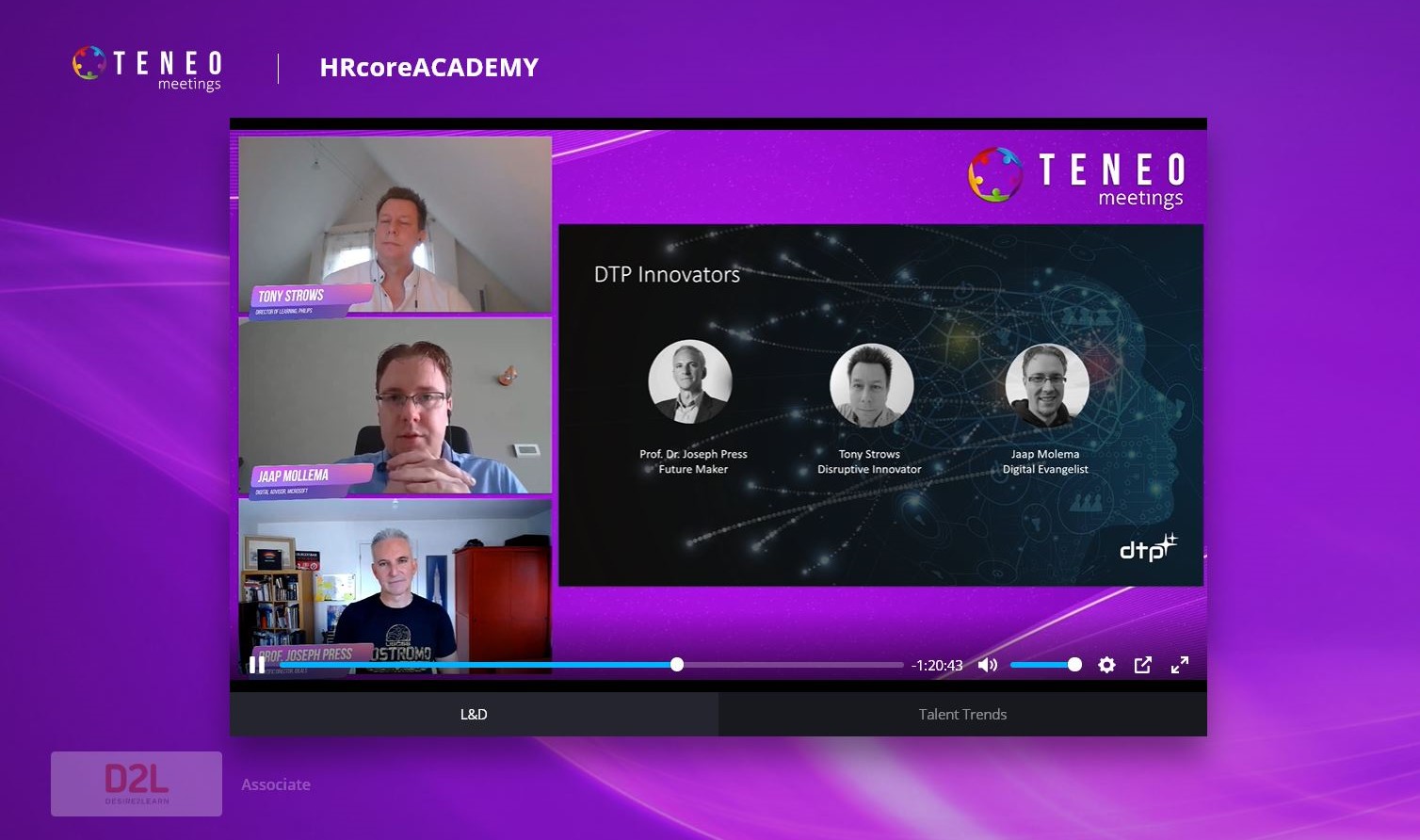 — We talked to some organizers who made the following point: when physical events are allowed again — I hope it's going to be soon — they will add a virtual part anyway, to expand and reach the audience.  How do you see the future of physical events?
— Yeah, there is a big talk in the event community these days about hybrid events. Once the live events will be again possible to hold, what part will the virtual play in that setting? Right now, depending on the location, there's certainly a different timeline for Europe, different countries in Europe, United States, other parts of the world. Some counties will allow having live events probably as early as Q2 next year, April-May.
However, it will still be difficult to have live events, since other countries may not allow, companies may not allow their workers, their employees, to travel. So I don't think that live events will come back before the second half of next year.  When it comes to hybrid, to the virtual part of it, that's a difficult question, because  having a live event is one level of complexity, and having a virtual one is another level of complexity, so if you put them together, it rises to
— You double it.
— Exactly, it's like the power of 2. So I don't think that a hybrid event can simply have recordings of the live sessions streamed online. I mean, you can do it this way, however, this could lead to this 'death by video' effect.
These two forms of events have different dynamics, different moderation, different ways how to engage people. I think that hybrid events could go into the direction of having the two, but not necessarily at the same time, you know, a live event that can last two days, physically, and can be held over these two days, but the virtual part of it does not have to be on these two days exclusively.
It can start a couple days before, it can last for a couple days after, and especially this will allow people – participants, solution providers, speakers – to interact in both these environments, just at a different time. They can have more time and can put more focus into that interaction, in consuming the content, networking, learning… It's also hard to say what would be the best solution for everyone: each event has different goals, different audience, and each event will require a different solution and approach. However, thinking about our events, I think we would rather go with this plan, to have a smaller live event on two or three days, and then a virtual part built around it, to extend the whole event, to give people the option to interact during and after the event as much as they would like.
— Thanks a lot and thank you for your time. I really hope that next year or really soon we'll be able to meet in real life.
— I hope so too. I hope so too, that soon things will start getting back to normal, and we can take the learning acquired during this period and apply it to the new environment and move forward with our businesses, our lives – everyone is waiting for that.
We've been put into this situation against our will, and everyone is forced to find the best way to operate in this reality. Sometimes it's good to be shaken a little bit, taken out of your seat and forced to move, to explore, and to find other ways. It's definitely not something that people want, but it's something that leads to progress.